So many protein powders… what to chose?
Google it and you'll find loads of info to sort through, so here's a quick Coles notes comparison for you:
Whey Protein:
Source: Derived from milk during the cheese-making process.
Protein Content: High protein content, typically around 20-25 grams per serving.
Digestibility: Fast-digesting, quickly absorbed by the body making it great for supplementing around your workout.
Best for: Post-workout recovery, as it promotes muscle protein synthesis (MPS) and rapid replenishment of amino acids; can also be used in baking.
NOTE: gold standard when it comes to whey protein is an isolate because it goes through an extra process of extracting or isolating a higher amount of the whey protein, resulting in a higher amount of the amino acid leucine, which is imperative to MPS.  Additionally, best choice is a New Zealand whey isolate because:
NZ is known for its lush, green pastures, which allow cows to graze on nutrient-rich grasses year-round. Whey protein derived from grass-fed cows is believed to have a superior nutrient profile compared to cows fed a grain-based diet.
NZ has strict regulations regarding the use of pesticides, herbicides, and other chemicals in agriculture. This results in a cleaner and more natural environment for the cows and, subsequently, the quality of the whey protein.
NZ has rigorous quality control standards in place for its dairy industry. This includes monitoring for contaminants and ensuring the purity of the whey protein produced.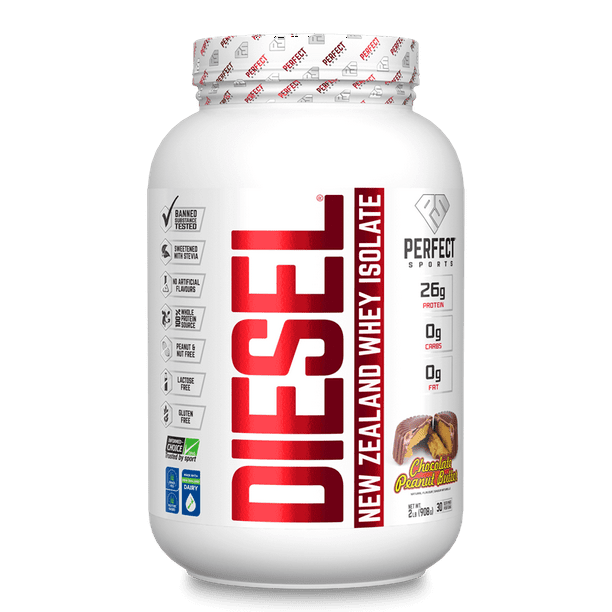 👆🏼 Diesel brand is our favorite protein powder, find it at many common stores.  If you're in the Victoria BC area, visit Supplement King, 3680 Uptown Blvd #103, Victoria, BC for all your supplement needs!  Tell them BUILD Nutrition sent you and receive 15% off your order!
Casein Protein:
Source: Also derived from milk, but digests more slowly than whey.
Protein Content: High protein content, similar to whey.
Digestibility: Slow-digesting, provides a sustained release of amino acids.
Best for: Before bedtime or as a meal replacement, as it can help maintain a positive nitrogen balance (essential to MPS & recovery) during extended periods without food.
Plant-Based Protein (e.g., Pea, Rice, Hemp):
Source: Derived from plants like peas, rice, hemp, or soy.
Protein Content: Varies by type but generally lower than whey or casein, much lower in leucine.
Digestibility: Varies; some plant proteins are easier to digest than others.
Best for: Vegans, vegetarians, or individuals with lactose intolerance. Use as a protein source in smoothies or shakes. When using for baking, experiment with small batches first (https://buildnutrition.ca/frustration-of-baking-with-vegan-vs-whey-protein-powder/)
Egg White Protein:
Source: Made from egg whites.
Protein Content: High protein content, high leucine.
Digestibility: Easily digestible with a good amino acid profile.
Best for: Post workout, also for those looking for an alternative to dairy-based proteins. Suitable for baking or shakes.
Soy Protein:
Source: Derived from soybeans.
Protein Content: Moderate to high protein content, making it the best alternative to whey or egg white protein (when optimal MPS is priority).
Digestibility: Good digestibility and amino acid profile.
Best for: Vegetarians, vegans, or those looking for a complete protein source. Can be used in smoothies, shakes, or cooking.
Collagen Protein:
Source: Derived from animal connective tissues (collagen).
Protein Content: Lower protein content compared to other options.
Digestibility: Easy to digest but lacks some essential amino acids.
Best for: Supporting skin, hair, nails, and joint health. Not ideal for muscle recovery due to its amino acid profile.
NOTE: also see our blog comparing whey to collagen for building muscle (https://buildnutrition.ca/is-whey-or-collagen-protein-better-for-building-muscle/)
Hydrolyzed Protein:
Source: Typically derived from whey, casein, or collagen.
Protein Content: Similar to the source protein.
Digestibility: Pre-digested, making it easy on the stomach and quick to absorb.
Best for: Individuals with digestive issues or sensitivities, as it's gentle on the stomach. Can be used post-workout or as needed.
NOTE: not as readily available in stores and often quite pricey.
What to look for when buying protein powder:
High-quality protein powders should provide you with the protein content you need while avoiding unnecessary additives and fillers.  Here's what to look for:
Ingredient List:

Check the ingredient list to ensure it contains a minimal number of real, recognizable ingredients. Avoid products with long lists of artificial additives, sweeteners, and fillers.
Look for ingredients you can pronounce and understand.

Minimal Additives:

Avoid artificial sweeteners, flavors, and colors. Instead, opt for products sweetened with natural sweeteners like stevia, monk fruit, or coconut sugar.
Choose protein powders with minimal preservatives and additives.

No Fillers:

Steer clear of protein powders that contain unnecessary fillers, such as maltodextrin, cellulose, or other bulking agents.

Third-Party Testing:

Choose protein powders from reputable brands that undergo third-party testing for quality and purity. These tests can verify the accuracy of the ingredient list and ensure the absence of contaminants.
Look for something on the label that states it's been third-parting testing.  NSF is a common stamp you'll see.

Protein vs Carb Content:

Ensure the protein powder provides an adequate amount of protein per serving to meet your nutritional needs. This typically ranges from 15 to 30 grams of protein per serving.
If getting enough dietary protein with added carbs is your goal, check to ensure there is no more than 5 grams of carbs per serving in the protein powder.  A true protein powder should be lower in carbs, whereas a meal replacement shake formula will have both high protein and carbs.
Hope that helps!  If you'd like some personalized help in hitting your protein goals, get in touch – this is our jam!
Did you know?
We spend an entire month talking about PROTEIN in our Lunchbox Gamified Nutrition Challenge!
The science, the why, and all the how-to's… every day so you can build the lifelong habits you need to build your best body, from the inside out.